SUPER PROMOTIE

DECEMBRIE 2018
La orice produs* marca BiotechUSA, Scitec Nutrition, Pro Nutrition, Xplode Gain Nutrition, Devil Nutrition si Muscle House, primesti o reducere de 50% la al doilea produs cumparat (la produse din marcile mentionate anterior!).

* MENTIUNI:
- reducerea de 50% se acorda produsului care are valoarea mai mica;
- produsele aflate deja in promotie nu sunt incluse in aceasta oferta!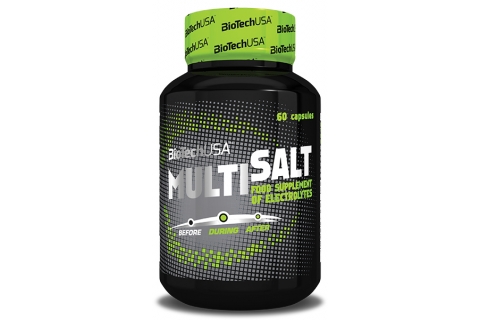 MultiSalt
Producător:
BioTech USA
Cod produs:
BTNMLTSLT
Disponibilitate:
În Stoc
292 mg salt per capsule
Maintains electrolyte balance*
Effective salt supplementation
Reduces the risk of cramps**
Convenient, easy-to-dose capsules
No preservatives
Gluten-free
Lactose-free

THE INDISPENSABLE SALT

During prolonged, extreme endurance activities (e.g. ultramarathon, triathlon, pentathlon, ultrarunning) you lose a lot of water, salt and minerals, especially in hot weather. From among minerals, your body mostly loses sodium and chlorine, as well as magnesium to a lesser extent. Although water rehydrates your body, it cannot, in itself, supply the basic salts required for the balance of your body, which may affect electrolyte balance. Therefore, it is especially important to supplement electrolytes quickly and effectively during physical activity.

MULTISALT: QUICK AND EFFECTIVE SALT SUPPLEMENT

MultiSalt contains four ingredients in one capsule: sodium, magnesium, potassium and chloride. *Magnesium contributes to maintaining electrolyte balance and reducing tiredness and fatigue, as well as to normal energy-yielding metabolic processes. **Potassium and magnesium contribute to normal muscle function. Thus, it will not only refresh you quickly, but it can also reduce the risk of cramps, and you can say goodbye to sluggish exercise.

Keep your salt capsules on hand to make your victory sweet.

We recommend MultiSalt:
as an excellent source of electrolytes for extreme needs, to replenish salts lost during intense sweating
as a useful supplement for prolonged activities, even in extreme climates
to prepare your own electrolyte-carbohydrate solution

Like all BioTechUSA products, MultiSalt consists of safe and carefully selected ingredients.



Directions: Take 1 capsule with plenty of water (500 ml) during high-intensity endurance sports. Take 1 capsule every 60 minutes.

Ingredients: sodium chloride, magnesium oxide, potassium chloride, capsule shell [gelatin,colours (titanium dioxide, iron oxide black)], maltodextrin, tricalcium phosphate, anticakingagent (silicon dioxide). Made in a plant that also manufactures milk, egg, soy andmustard containing foods.

Spune-ţi opinia
Notă:

Codul HTML este citit ca şi text!
Rău
Bun